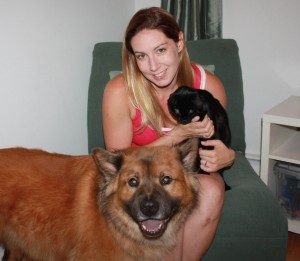 Pompton Pet Sitters
Pompton Poop Scoopers is a division of Pompton Pet Sitters, LLC. After many years pet sitting and dog walking for our local clients, we knew we loved making our clients happy by helping take care of thier furry best friends. We tried to think of other ways we could make our clients' lives easier and Pompton Poop Scoopers was the obvious result! Our clients already know and trust us to love their pets and care for their homes, why not let us help keep your yards clean and safe as well!
Pompton Pet Sitters, LLC and Pompton Poop Scoopers serves Wayne, Montville, Towaco, Lincoln Park, Haskell, Wanaque, Kinnelon, Butler, Riverdale, Bloomingdale, Pompton Lakes, Pequannock, and Pompton Plains. All of our pet sitters and poop scoopers are employees of PPS, trained in pet sitting, dog walking, and/or poop scooping, background checked and are fully bonded and insured. We never use independent contractors. We pride ourselves in going above and beyond your expectations, and always being available for you and your pets.
Jennifer Bradley 
Jen is the owner and founder of Pompton Pet Sitters, LLC. She has a lifetime of experience caring for her own pets, including dogs, cats, birds, fish, rabbits, lizards, and even a chicken and rooster as pets and many years of experience as a professional pet sitter. She has lived in Pequannock, NJ from the age of 2. She has always been an animal lover and can remember the first time her parents hired an in-home pet sitter to care for the animals while they were away. They were so relieved to no longer have to burden family or friends by asking them to visit several times a day while gone. Some years later, Jen began working as an employee of that same pet sitter. Pet sitting and dog walking were such a rewarding and fun experience every day, that several years later, after completing collage and law school and working as an attorney, Jen decided to leave corporate life behind to create Pompton Pet Sitters, LLC.
Missy 
Missy is a manager, dog walker, and pet sitter with Pompton Pet Sitters. She is a long-term resident of Montville, NJ. She is a true animal lover and volunteers weekly at Orphaned Pets, an animal rescue organization in Fairfield, NJ. She works tirelessly to find forever homes for deserving pets and often helps transporting rescues for long distances to help give them a chance at a better life. Missy has had many dogs and cats throughout her life, and is currently mom to Gucci, a 10 year old Australian Cattle Dog mix, and Bridgett, a 5 year old Whippet Mix. Missy is pet first aid trained and we are proud to say, she has been with our company for several years.
Melissa
Melissa is a dog walker and pet sitter and has been a fantastic employee of Pompton Pet Sitters for several years. She has lived in Wayne, NJ for her entire life, spending her first 14 years convincing her parents to (finally) get her a miniature schnauzer. Melissa spent several summers volunteering at an animal hospital, assisting the veterinarian and vet technicians with appointments. She has pet first aid training and has been taking care of pets for friends and neighbors even before she became an employee.
Kelly
Kelly is a dog walker and pet sitter with Pompton Pet Sitters. She is a long-time resident of Pompton Lakes and has personal experience with almost any pet you can thing of, including dogs, turtles, fish, rabbits, hamsters, horses, snakes, and more. She loves dogs and has often acted as a foster mom to many rescue dogs. She has 3 dogs of her own (a husky mix, pointer mix, and pitbull) and 2 cats. She has experience with pills and injections and has an amazing rapport with all animals, we are so happy to have her, and so are our clients!
Tristan
Tristan came to work as a pet sitter and dog walker with Pompton Pet Sitters on a recommendation from one of our longest employees and manager, Missy. As Missy's son, he his pet family members include Gucci, a 10 year old Australian Cattle Dog mix, and Bridgett, a 5 year old Whippet Mix. Tristan does a wonderful job connecting with and caring for dogs and pets of all sizes and dispositions. Even the most skittish clients take to him with ease.
Sam
Sam is a pet sitters and dog walker with us and she has lived in Wayne her whole life. She has worked with animals since middle school, including a groomer and various horse farms. Sam is a recent graduate of Rutgers University and has her own business as a certified Magna Wave PEMF Practitioner, working with pets, horses, and their owners.
Kim
Kim is a pet sitter and dog walker with Pompton Pet Sitters. She has lived in Pequannock Township for over 27 years. She loves all animals for thier compassion, friendship and unrelenting love. She has always had dogs and cats, mostly rescued from homes who cannot take care of them any longer.
Kelly Ann
Kelly Ann is a pet sitter and dog walker. She lives in Haskell and has always had dogs and other animals growing up. At one time she had a lizard, snapping turtle, hamster, and 2 dogs. Right now Kelly and her husband stick to just dogs, but spoil them rotten!
Alicia
Alicia is a pet sitter and dog walker and has lived in Wayne for 8 years. Prior to that she lived on a 40 acre fam with horses, goats, dogs, and cats. She has been an animal lover since she was small. She has been a horseback rider since age 5. For the last 2 years she has also worked part time at a dog groomer.